Sharjah Health Center MOH
- Hosted By
Rigan2021
This is the official page of Ministry of Health & Prevention United Arab Emirates.
لقد تبنت حكومة دولة الامارات العربية المتحدة و المتمثلة بوزارة الصحة سياسة "توفير الرعاية الصحية الشاملة لجميع المواطنين والمقيمين" . ويمكن تحقيق ذلك عن طريق برامجها الوقائية و العلاجية من خلال شبكة الخدمات الصحية على جميع مستوياتها التي تضم الرعاية الصحية الأولية ، والرعاية الصحية الثانوية والرعاية السريريه . وقد تحملت وزارة الصحة و بصورة أساسية مسؤولية تنفيذ هذه السياسة في كافة المجالات الفنية والمادية ، و التنسيق مع وزارات الدولة، والتعاون مع القطاع الخاص في المجال الصحي محلياً ودولياً ، بالإضافة إلى أفراد المجتمع .
ويمثل وزير الصحة قمة الهيكل التنظيمي لوزارة الصحة، وعضواً في مجلس الوزراء. ويعاون وزير الصحة وكيل الوزارة وثلاث وكلاء مساعدين .
تتركز خطط الوزارة الإستراتيجية على الاستمرار في تطوير نوعية وكمية خدمات الرعاية الصحية الأولية، لذا تمت زيادة العيادات المخصصة لرعاية مرضى السكر وخصصت عيادة لمعاينة كبار السن. كما تمت توسعة خدمات طب الأسنان ، حيث تم تأسيس وحدة طب الأسنان ، وذلك لتقديم رعاية خاصة لهذه الفئة وبالتحديد في مجال الرعاية الوقائية. وتم تزويدهما بخدمات المختبر والأشعة، بغرض تمديد الوقت المتاح للمواطنين و الوافدين للاستفادة من الخدمات المقدمة.
إن الكثير من هذه الإنجازات ما كانت لترى النور دون التنسيق والتعاون مع القطاع العام والجهات الأخرى في وزارة الصحة، كمشروع مكافحة السكري بالتنسيق بين وزارة الصحة ووزارة التربية والتعليم .. إن مشاركة قطاع المجتمع في اتخاذ القرارات المتعلقة بمجال الخدمات الصحية من أولويات اهتمامنا.
The government adopted the United Arab Emirates and the Ministry of Health policy "to provide comprehensive health care for all citizens and residents." This can be achieved through its preventive and curative health services through a network at all levels, which includes primary health care, secondary health care and clinical care. Have borne the Ministry of Health and mainly responsible for the implementation of this policy in all areas of technical, material, and coordination with the Ministries of State, and cooperation with the private sector in health locally and internationally, in addition to members of the community.
The Minister of Health summit organizational structure of the Ministry of Health, and a member of the Council of Ministers. And assists the Minister of Health and Deputy Minister and three assistant agents.
Focused strategic ministry plans to continue to improve the quality and quantity of primary health care services, so has expanded clinics for the care of diabetic patients and clinic devoted to preview the elderly. Also been expanded dental services, where the unit was established Dentistry, and to provide special care for this category, specifically in the area of preventive care. Was to provide them the services of laboratory and radiology, a view to extending the time available to citizens and expatriates to take advantage of the services provided.
Many of these accomplishments would never see the light without coordination and cooperation with the public sector and other actors in the Ministry of Health, as a fight against diabetes in coordination between the Ministry of Health and the Ministry of Education. The participation of society sector in decision-making on the field of health services a priority for our attention.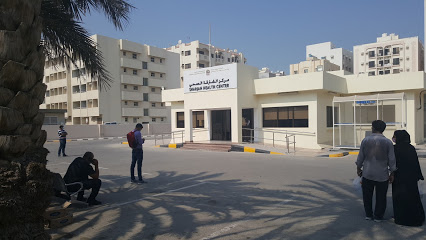 Working Hours :
Open Now

UTC + 4
Monday

Open all day

Tuesday

Open all day

Wednesday

Open all day

Thursday

Open all day

Friday

Open all day

Saturday

Open all day

Sunday

Open all day